The "Typewriter Database" is the biggest source of typewriter serial numbers on the Internet today. As far as we know, it's even the most complete collection of serial numbers ever. But when you see the number of given brand names, it's still only a beginning.
This Database is also a collection of typewriter photo galleries from the collections of enthusiasts all over the world. These galleries are linked to manufacturers and not only serve as a valuable additional resource for research about various machines, but also are fun to page through and see what collectors have in their typewriter collection.
This weekend's outage Sun, 16 Jan 2022
Well, the "typewriterdatabase.com" domain is having issues at the root DNS level because the domain registrar flubbed a data center migration. The issue only affects DNS (the map for routing your web browser to the TWDB's server), so there's no danger of anything being lost - the web server itself is running fine. I've changed the site's configuration to make the primary name "www.typewriterdatabase.com" which which is an alias domain that seems to be somewhat reliable for directing traffic to the server if you use it. No idea when this will be fixed, as it's all happening upstream of the stuff I control. Updated information will be posted at this blog post as it comes in:
Full Story
Typewriter Hunter Search Thu, 16 Sep 2021
There is now an "SRV" view available to logged-in Typewriter Hunters on the "Typewriter Hunters" List. The default is "TPV", so to access the new Search function, you'll need to switch to SRV View via the link just below the page title - which you will only see if you are logged in at Typewriter Hunter level. You can now use Search to find specific Typewriter Hunters, if you are a Typewriter Hunter. (:
Full Story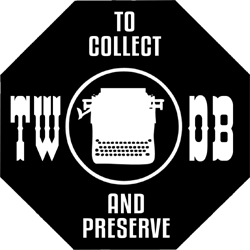 Hello, fellow Typewriter Hunters! We've started a Patreon page as a way to allow you, our fellow typewriter lovers, to help make the TWDB even better. A small monthly pledge helps pay the bills that keep The Typewriter Database online. Please sign up now.
Thank you!
T. Munk
Archivist, The Typewriter Database

Become a Patron!
Most Recently Edited Typewriter Galleries see more »
---