2001 Brother GX-6750 #D1D270398
Status: Sightings
Hunter: Stephen Hanafin (st3ph3n)
Created: 08-23-2021 at 09:15AM
Last Edit: 01-23-2022 at 10:26AM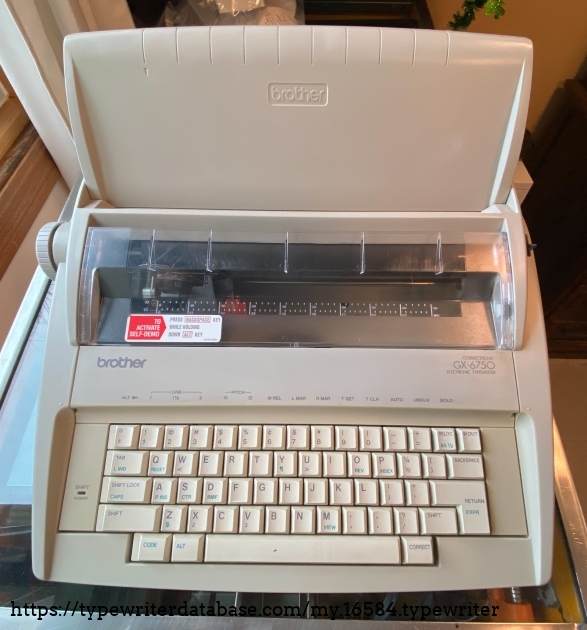 Description:
I'm not sure what year this machine was made in, since Brother appears to have made this model for decades and they only encode the month of manufacture and last digit of year of manufacture into their serial numbers. Could be 1991, 2001, maybe even 2011. If I had to guess, I would say 2001 based on condition when I bought it.

I picked this one up locally from a Facebook Marketplace seller for $10, and it was filthy. covered in grime, sharpie, and crayon marks. I cleaned it up as best I could, although it still shows significant UV yellowing on the plastic. It was advertised as needing a ribbon, but it turns out that the daisy wheel just needed to be latched into place, and then it worked fine with the ribbon that was already installed. Ribbons and correction tapes for these machines are still readily available, at least for now. It came with a Brother Brougham 10 daisy wheel, which I think is probably the default one that came with these. I haven't acquired any more (I've been down that rabbit hole with my IBM Wheelwriter, it gets expensive), but I was able to get a bunch of carbon ribbon cartridges and correction tapes pretty cheaply online.

These machines are kinda weird. They're slow compared to some of their daisy wheel competition, like the IBM Wheelwriter, with a noticeable lag between pressing a key and a character being imprinted. Even the carriage return moves more slowly, but these are very much more entry level/personal use type machines, while a Wheelwriter is an office workhorse. It is harder to see what you're typing on this machine than on the Wheelwriter or on most manual typewriters as well, as the carbon ribbon tends to block your view quite a lot unless you sit at just the right height above the machine. With all that said, I do enjoy using it and it produces very nice and crisp output, thanks to the carbon ribbon. The correction feature is pretty much a necessity, as my fingers can't get used to the laptop style keyboard on this machine and I make frequent typos. Also, not having a dedicated margin release key was a massive design flaw. It is quite annoying to have to hit ALT+6 every time I want to margin release.
Some other nice features of this machine include the ability to type in bold (by automatic multiple strikes of the ribbon) and underline, along with correction memory, so you don't have to overtype the same characters when you correct. One of the WORST features of this machine is the fact that it forgets your tab and margin settings when power is disconnected. There is no battery backup.

The main reason I bought this machine is because it is the exact same model as the first typewriter I ever used as a kid in my parents' house in the 1990s. Nostalgia is a powerful drug!

Sold 2022-01-22
Typeface Specimen: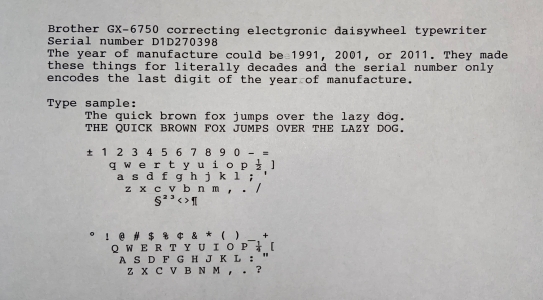 Photos: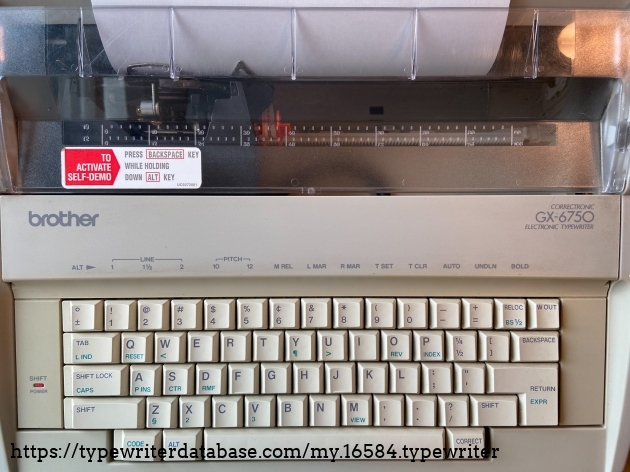 Keyboard view. You can see the various ALT commands above the number keys, the most frequently used of which for me is the margin release.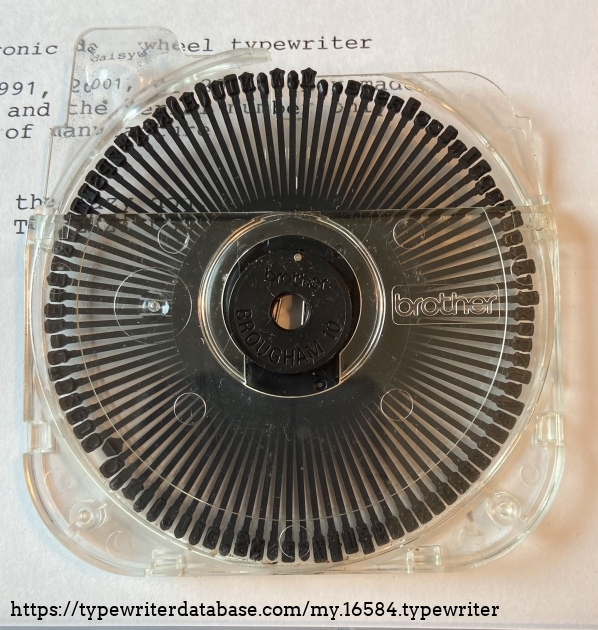 Brougham 10 daisy wheel.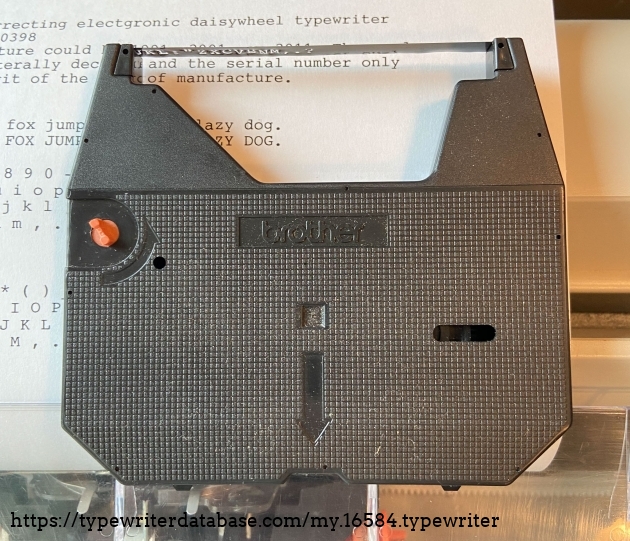 This is the carbon ribbon cartridge that came in the machine, still working. Replacements are readily available for now.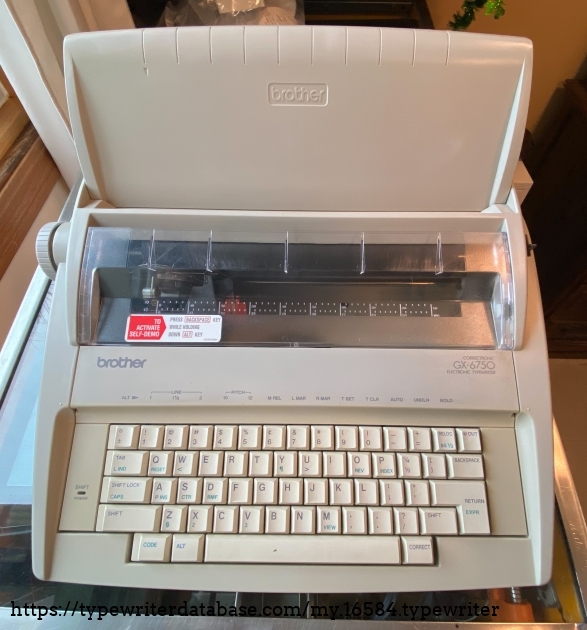 Keyboard cover in place as paper rest. Notice the yellowed plastic around the keyboard.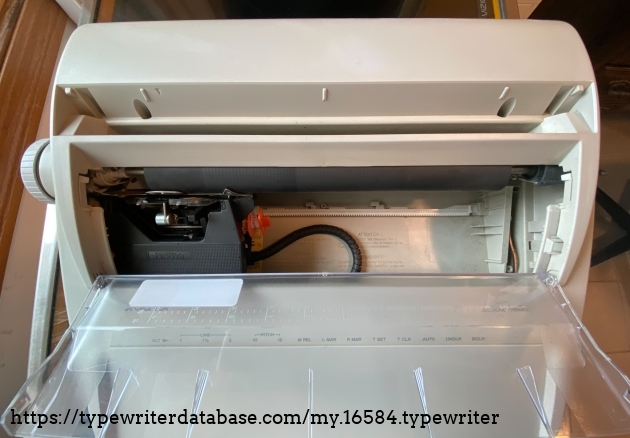 Top down view of the carrier with the lid open. You can see the platen knob on the left.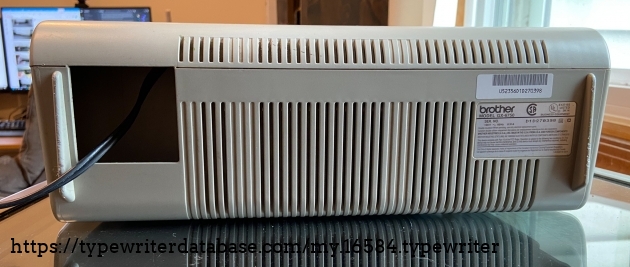 Rear view. Serial number is on the labels to the right. The cavity on the left can be used to store the power cable when not in use.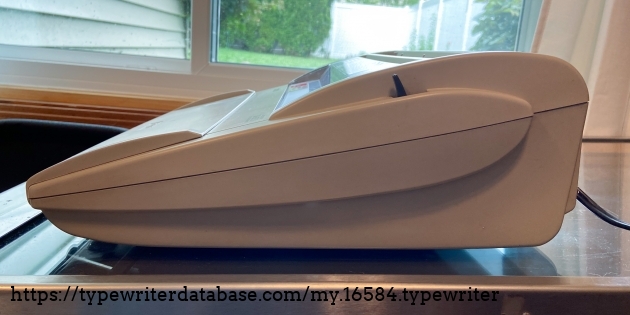 Side view. Nothing to see here besides the paper release lever. The only platen knob is on the left side.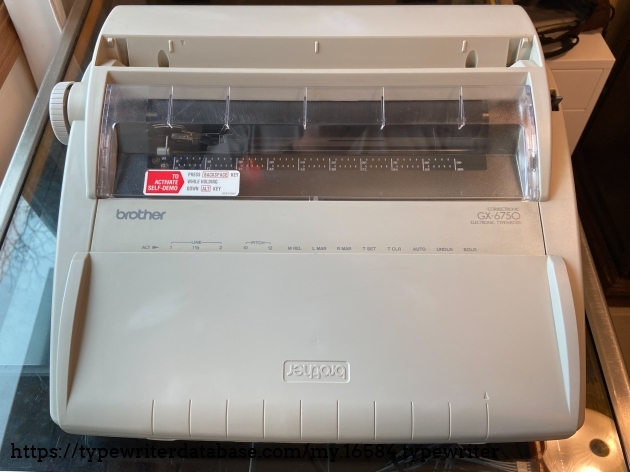 The typewriter with the keyboard cover attached. When removed, you can slot it behind the platen for use as a paper rest.
Hunter: Stephen Hanafin (st3ph3n)
Stephen Hanafin's Typewriter Galleries [ My Collection ] [ My Sightings ]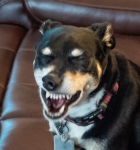 Status: Typewriter Hunter
Points: 645
I have learned that I'm a fan mostly of mid-century european portables
---